Ringwood Library Exhibits
The curators of the St. Catherine of Bologna Patron of the Arts Association along with the Ringwood Public Library present a Watercolor Exhibition as an overview of the artwork of the late Andy Gorcica. This Memoriam Display display can be seen in the main floor gallery from February 18 thru March 31, 2020.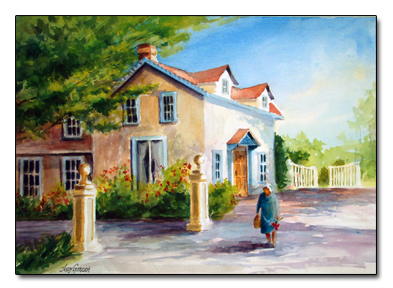 About Andy:
Art was an important part of Andy's life for over 40 years, most of that time in Advertising as a Graphic Designer. But upon retiring, he enjoyed painting watercolors.
He was constantly learning, absorbing whatever he could. Andy studied watercolor painting with fine artists, such as Joel Popadics and Eli Rosenthal. His mentor was Burton Longenbach, a well-recognized NJ Artist. Andy joined Art Associations in Ringwood, Ridgewood, Rutherford, Hudson County, and Clifton, and participated in their juried shows and enjoyed meeting other artists.
Andy won many awards over the years. In 2005, his painting Springtime in Sussex won First Place and Best in Show in watercolor in St. Catherine of Bologna's Annual Exhibition. Then again for that painting he received First Place in the Senior Juried Show in New Milford and went on to represent Bergen County in the New Jersey State Finals in Flemington.
In 2006, Andy had a one-man show in The Lycian Centre Gallery in Sugar Loaf, NY showing 54 of his works. That same year he also had a 2-man show in the Glen Rock Library. His work has been shown in the Papermill Playhouse, The Flyway Gallery at the Meadowlands Environment Center, The Ringwood Barn Gallery, St. Catherine of Bologna Art Show,
The Art Center of Northern New Jersey, The Clifton Arts Center, and The Ridgewood Barn. Andy has also had a 3-man show at the Artisans Touch in Clifton. His paintings are realistic landscapes of places he & his wife have visited.
Andy has also had numerous commissioned assignments and his works are in many private collections in New York, New Jersey, Minnesota, Florida, and Virginia. He graduated from the Newark School of Fine & Industrial Arts under the GI bill, and had attended classes at the New York School of Visual Arts. In June of 2006, Andy was diagnosed with Cancer.
He passed away in March, 2007. He will be greatly missed.